I heard a quote recently, that stopped me in my tracks:
"Your house will make more than you will this year."
And for many, that is true.
Whether you plan to sell or stay put, the value of property has increased so sharply in the last 2 years, (and over the last 12 months in particular) that many will see a bigger bump in their home's value again this year, than they receive in income.
But will it last?
A year ago, I was pleased to see Ottawa property prices rising to more closely match other major markets. As we enter another year of extraordinarily low inventory however, I believe the pace at which prices continue to rise is unsustainable long term. Ottawa is not alone in this scenario either. Low inventory, multiple offers and rapidly increasing prices are trends in many markets across the country.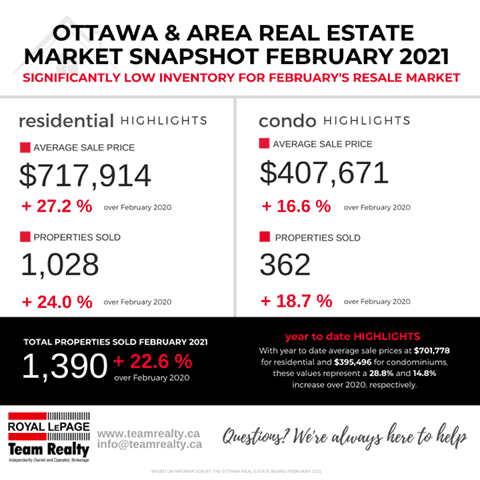 Watching the listing inventory and sale prices from day to day, the numbers are eye-popping. In December 2019, the average freehold sale price was $500,306. A year later, in December 2020, it had climbed to $602,892. In February 2021, the average sale price was $717,914.
Condo properties have seen a similar increase in value. In December 2019, the average condo sale price was $310,675. By December 2020 the price had risen to $361,758 and in February 2021, the average was $407,671.
Something has to give. Or perhaps several things. Getting enough residents vaccinated to achieve herd immunity and allow people to return to a more normal life will help. So will a rise in interest rates, which will temper the market.
Until there are some changes, however, it is more important than ever to study comparable sales as a buyer, to be disciplined about sticking to a pre-determined "top dollar" when offering, and to not allow market momentum to carry you "out to sea".
If you have questions about buying and selling real estate, 
call me at (613) 853-8002
. I am here to help and happy to provide a real-time update.
#resultsthatmoveyou #ottawarealestateagent #RoyalLepage #RoyalLePageTeamRealty #homeowners #homebuyers #homebuying #sellers #homesellers #ottawarealestatestatistics #february21realestatestatistics #canada #canadianrealestate #ottawarealestate #residentialrealestate #ottawaresidentialhomes #ottawahomes